The port city of Wilmington blends the best of historic architecture and laid-back living with 21st-century development. Riverwalk cruises and world-class shopping are burnished with southern charm. Here at The Grounds Guys, we offer full-service landscaping in Wilmington, NC, that develops your property to add to the city's beauty.
What Makes Regular Landscaping in Wilmington, NC, So Important?
Caring for the health and beauty of your lawn and garden contributes to the peace and harmony of the entire neighborhood. Overgrown or weed-choked grass, shrubbery, and trees can harbor pests that carry allergens and diseases. The Grounds Guys of Wilmington rehabilitate neglected gardens and clear out leaf litter that shelters ants, spiders, fleas, ticks, and rats. Healthy, well-maintained grounds are resistant to pests and a source of joy for your family.
Beautiful plants and well-tended hardscape also improve your curb appeal and boost property values, as well as that of your neighbors. Quality landscaping in Wilmington, NC, makes your home more attractive while providing a clean, safe environment you will be proud of.
The Many Benefits of Professional Lawn Care in Wilmington, NC
Quality landscaping and maintenance are hard work. After all, costly mistakes are all too common, while broken sprinklers, busted water lines, and strained backs are frequent hazards. Let The Grounds Guys save you time, money, and muscle pain with our comprehensive lawn care in Wilmington, NC. Our professional equipment and years of experience enable our specialists to bring out the best in your property.
When you entrust your property to The Grounds Guys of Wilmington, you enjoy the support of the Neighborly Done Right Promise™. We get the job done right and on time the first time.
How Can Our Lawn Maintenance Services in Wilmington, NC, Help?
The sandy, acidic soils in Wilmington naturally provide good drainage. But that acidity makes it challenging for plants other than crabgrass, foxtails, and goosegrass to thrive. That's why we cultivate your soil to neutralize the acid and boost its fertility so it will support lush, healthy grass, flowers, and shrubs.
The Grounds Guys' lawn maintenance services in Wilmington, NC, start below the surface of your garden, rebuilding your soil. We then eliminate the weeds that starve out your garden plants. This preparation provides the perfect foundation upon which your garden can flourish. Next, we tend your flower beds, plant them with seasonal color, and maintain clean edging between the bedding plants and your hardscape. Finally, we keep the fallen leaves raked, and we remove all garden debris, so your property remains healthy and looking its best.
Our Landscaping Services in Wilmington, NC
At The Grounds Guys of Wilmington, we customize our landscaping services in Wilmington, NC, to suit your property's needs. We'll maintain your walkways and walls, plant seasonal colors, and trim your trees. We'll also cultivate your soil and care for the health and vitality of your landscape. With The Grounds Guys of Wilmington, your grass, flower beds, shrubs, and trees will be the envy of the neighborhood!
We provide the following landscaping services in Wilmington, NC
Landscaping
Groundskeeping
Lawn maintenance
Aeration
Irrigation
Drainage
Flower bed care
Tree work
Turf maintenance
Weed control
Pest control
Seasonal Lawn Care Services in Wilmington, NC
Your garden's needs change with the seasons and The Grounds Guys of Wilmington provide gardening and landscaping services tailored to those changing needs. From freak heat waves to flooding to occasional snow flurries and everything your garden faces in between, we will keep your property flourishing.
To ensure your landscape looks its best all year long, The Grounds Guys offers the following seasonal Lawn Maintenance services in Wilmington, NC:
Spring clean-up
Pruning
Mulching
Seasonal color
Turf maintenance
Irrigation repair
Fall clean-up
Gutter cleaning
Call The Grounds Guys of Wilmington for Excellent Service
Your landscape and garden will be the talk of the neighborhood when you entrust your property to The Grounds Guys landscaping services in Wilmington, NC. We will give you a free estimate, upfront pricing, and service that is on time and done right — every time. Contact us online today. Let's start your lawn's beautiful future!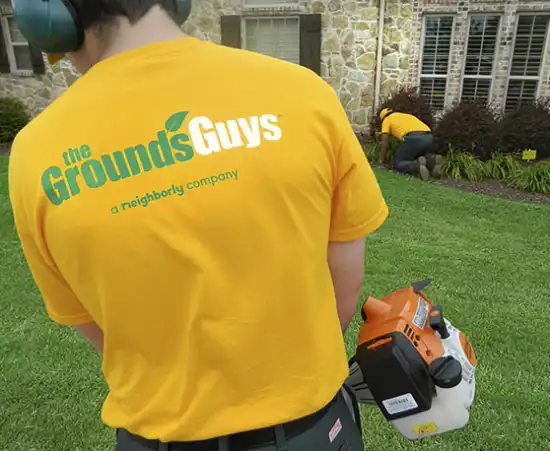 Experience The Grounds Guys Difference
When your visitors arrive, the first thing they see is your landscaping. Our Wilmington landscaping maintenance experts are ready to help you wow them. We are passionate about what we do, and that includes keeping you satisfied with the way your yard looks! When you call our team at The Grounds Guys of Wilmington, you can trust that you're calling the best. We offer a wide variety of services to ensure we can fully meet your yard care needs, including irrigation, lawn and bed maintenance, weed and pest control, hardscaping and landscaping design, and much more.
Want a free estimate on our services? The give our Wilmington landscapers a call.
The Grounds Guys of Wilmington
Areas We Serve
Wilmington
Our Difference
Professional, Uniformed Personnel

Timely Response Guarantee

Safe, Reliable Equipment Maintained Daily

Status and Quality Reports Delivered Timely
Request Job Estimate
Partnerships and Achievements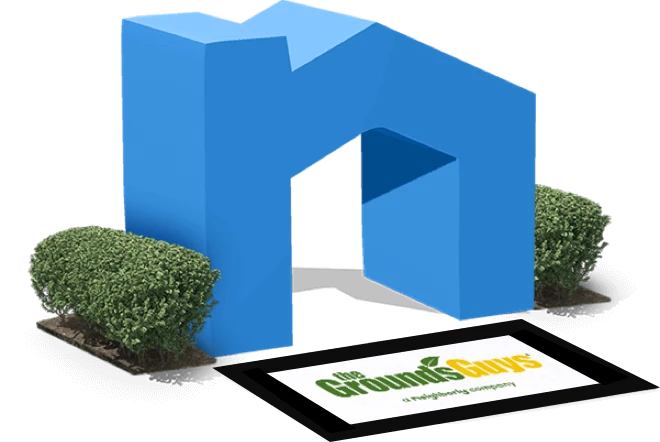 Neighborly®
The Grounds Guys is a Neighborly Company. Lawn care and landscaping are some of the many home maintenance solutions available to you through Neighborly. At Neighborly, we are committed to being there for all your home services needs.
Learn More About Neighborly