Why You Should Care About Regular Landscaping in Rowlett, TX
Your neighbor's beautiful lawn doesn't just happen by itself. They (or their landscaping company) spend a lot of time taking care of that lawn to keep the grass green and lush. Regular landscaping in Rowlett, TX, may seem like a lot of work, but it's worth it.
By performing consistent lawn maintenance in Rowlett, TX, you can:
Increase the curb appeal of your home
Boost the value of your property
Enjoy a greater pride of ownership
Save money by catching problems before they get too big
Not sure if you want to spend all the time and effort to keep your lawn looking great? You don't have to. Get a free estimate from the Grounds Guys® of Rowlett.
Should You Use Professional Lawn Care in Rowlett, TX?
Professional lawn care in Rowlett, TX, is an investment, but it could also save you a lot of money. First, consider how much your time is worth. Do you want to spend your weekends mowing your lawn or fixing your irrigation system when you could be watching the Cowboys game or spending a day at the Dallas Zoo with your family?
Next, consider that a professional lawn care company like The Grounds Guys of Rowlett understands the subtropical climate of the Metroplex area. We know what to do to make your lawn look great year-round. We also use top-of-the-line equipment, so you get a consistent look at all times.
Finally, we can also handle seasonal and one-off projects, so you can prep your lawn for whatever the seasons will bring. Learn more about our Neighborly Done Right Promise™.
Use The Grounds Guys of Rowlett for Your Gardening Services
A garden can add extra beauty and complexity to a home's landscape. There's nothing more uplifting than seeing a yard full of colorful blooms, but gardens also take extra work and effort. Contact us if you want all the upsides of having a garden without all the work involved.
The Grounds Guys of Rowlett are here to help you with every aspect of your garden, from planning to putting seeds in the ground, weeding, and cleaning up after the season. Tell us your garden vision, and we'll make it a reality.
We Are Your Go-To Lawn Care and Gardening Experts
Not sure where to start with your lawn? Whether you just need ongoing lawn maintenance in Rowlett, TX, or want to start your landscape from scratch, we can help. We would love to work with you to plan your entire landscape, including hardscape and water features. We can also perform the big seasonal projects you don't have time for or simply come by every week to keep your lawn looking its best.
Contact us today, and we will create a personalized plan based on your needs and budget.
Some of our most popular services include:
Flower Maintenance
Fertilization
Re-seeding
Sod installation
Mowing
Weeding
Pest control
Aeration
Landscape installation
Landscape lighting installation
Irrigation repair
Irrigation installation
Seasonal clean-ups
Tree trimming
Tree removal
Hardscape installation
Landscape design
Seasonal Services
Eastern Dallas residents know that the weather can pack a punch at any time of the year, from sweltering summers to spring storms and even occasional snow in the winter. Make sure your lawn is ready for whatever Mother Nature has in store.
Spring: It's time to wake up your lawn and get it growing. We often recommend a seasonal clean-up, fertilization, and sodding any bare or bald spots.
Summer: It's hot and dry this time of year. Now is a good time to check your irrigation system or install one.
Fall: Get your fall garden up and blooming this season. Now is also a good time for raking, mulching, and another round of fertilization.
Winter: Start planning your landscape projects for next year in the cooler months. Is it time to install landscape lighting?
The Grounds Guys of Rowlett – Friendly and Knowledgeable Lawn Care
If you want to work with a group that deeply understands the lawn care needs of Eastern Texas, that will show up on time, and that puts pride into their work, then give us a call. Our Rowlett team would love to help make your lawn the best on the block.
Contact us today for a free quote.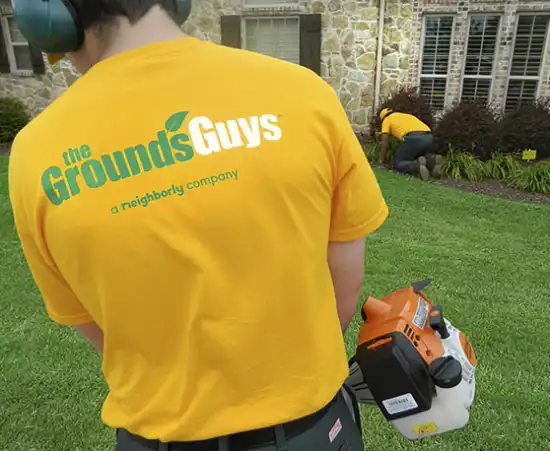 Being Nice to Mother Nature
Our passion for landscaping and lawncare extends to genuine care for the environment. To show our respect for Mother Nature, we have taken steps to be one of the most ecofriendly lawncare service providers in Rowlett and beyond. We use electronic documents whenever possible, do not leave our company vehicles idling, and use low-emission fuels in our vehicles and gas-powered landscaping equipment. Together, we can shrink our carbon footprints and protect the future.
For a free estimate on our ecofriendly landscaping services, call now.
The Grounds Guys of Rowlett
Areas We Serve


Fate, Garland, Plano, Richardson, Rockwall, Rowlett, Sachse, Wylie
Our Difference
Professional, Uniformed Personnel

Timely Response Guarantee

Safe, Reliable Equipment Maintained Daily

Status and Quality Reports Delivered Timely
Request Job Estimate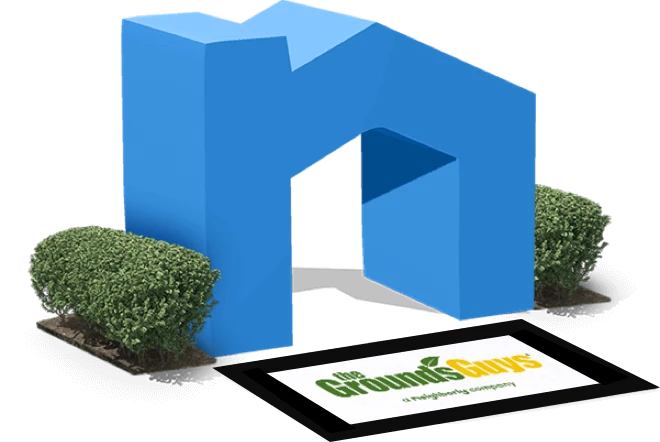 Neighborly®
They replaced my front lawn with a complete covering of new grass. I am so happy and excited, it looks beautiful.
Learn More