Why Is Regular Landscaping in Parker, CO Important?
When you own a home or business, keeping your property looking great goes along with the territory. Even though your time to spend on landscaping in Parker, CO, may be short, it's important. Your property receives many benefits from regular landscaping. When your property is well maintained, you get:
Healthy lawn and plants - Your plants resist disease and grow well when they are healthy and well taken care of.
Fewer pests - A well cared for property reduces the pest population.
Improved curb appeal - A beautiful property gets noticed. If you're a business owner, it could get you new customers.
High property values - When your property looks great, your property values are affected.
Aesthetics
- Imagine having neighbors slow down to admire your property because you hired professionals for regular landscaping in Parker, CO.
Benefits of Professional Lawn Care in Parker, CO
When you hire professionals for your lawn care in Parker, CO, not only does your property benefit, but you do too. Imagine not having to worry about your property and having your weekends to focus on more important areas of your life. Getting your weekend back is one huge benefit of hiring professionals like The Grounds Guys of Parker.
When you partner with a professional in lawn maintenance in Parker, CO, you get the advantage of our experience. We are experts in our field and caring for your property is our passion. Got questions about the weeds in your grass? Want to know the best time to prune your fruit tree? We have the answers (and we can do the work for you when the time is right!)
With professional lawn care in Parker, CO, you also save money. It may not seem like it at the start while we are getting your property in tip-top shape, but over time when you see our reliable results due to consistent care, and don't need to regularly replace your shrubs or deal with damage from trees, you will save money in the long run.
How Can The Grounds Guys Help with Gardening Services in Parker, CO?
When your garden feels overwhelming, The Grounds Guys of Parker can help. Our gardening services cover the full range of your garden needs, including:
Defining garden bed edges
Flower care
Weed control
Pest control
Soil cultivation
What Services Do The Grounds Guys Offer in Parker, CO?
The Grounds Guys of Parker are here for all of your landscaping needs. We offer a full range of services that cover everything your outdoor space needs to be beautiful and well-maintained. Your satisfaction is important to us. That is why we offer the Neighborly Done Right Promise™. Our promise to you is that if the job isn't done right the first time, we'll make it right.
We provide the following landscaping services in Parker, CO:
Lawn and Bed Maintenance
Landscaping
Groundskeeping
Irrigation
Aeration of soil
Lawn seeding and sod installation
Flower bed care
Snow and ice removal
Tree work
Pest and weed control
Turf maintenance
Seasonal Services
Your lawn and plants will have different needs based on the season we are in. The Grounds Guys of Parker have you covered with seasonal services. Get your free estimate for:
Pruning
Mulching
Fertilization
Spring clean-up
Fall clean-up
Seasonal color
Turf maintenance
Irrigation repair
Gutter cleaning
Call The Grounds Guys of Parker for Dependable Service
When you hire The Grounds Guys of Parker, you can feel confident that you will receive service you can depend on. Contact us today for your free estimate. We also service Littleton and Lone Tree.
Experience Our "Culture of Care"
The Grounds Guys of Parker stands out as a premier landscaping and lawn care company in the area. What makes our team different? We are committed to delivering superior quality, using the best equipment, and providing eco-friendly lawn care solutions.
More than that, we show that we "C.A.R.E." when we put:
Customers first, by always having a positive and helpful
Attitude, and by treating everyone and everything with
Respect. By living our code of values, we
Enjoy life in the process.
With so many different landscaping companies to choose from, you want to make sure you are selecting the right one. We guarantee you won't be disappointed when you get The Grounds Guys on the job!
Comprehensive Grounds Care Services
Our professional landscapers offer everything from snow removal services to seasonal flower bed planting. Our customers can turn to us with confidence for irrigation management, outdoor lighting, fertilization, tree maintenance, turf care, and much more.
When you do call on us, you can expect the following:
Clean, branded work vehicles.
Professional, uniformed personnel.
Fast responses for every call.
Safe, reliable equipment maintained daily.
Timely status and quality reports.
Regardless of whether you are looking for an organic lawn care program or holiday home lighting, our Parker grounds care experts are ready to help. We create a plan that fits your lawn care budget!
Request a free estimate by contacting our office.
The Grounds Guys of Parker
Choose the right grounds care services team in your area. When it comes to selecting the right team for your commercial or residential lawn care and landscaping services, The Grounds Guys is the right choice.
Areas We Serve
Littleton, Lone Tree, Parker
Our Difference
Professional, Uniformed Personnel

Timely Response Guarantee

Safe, Reliable Equipment Maintained Daily

Status and Quality Reports Delivered Timely
Request Job Estimate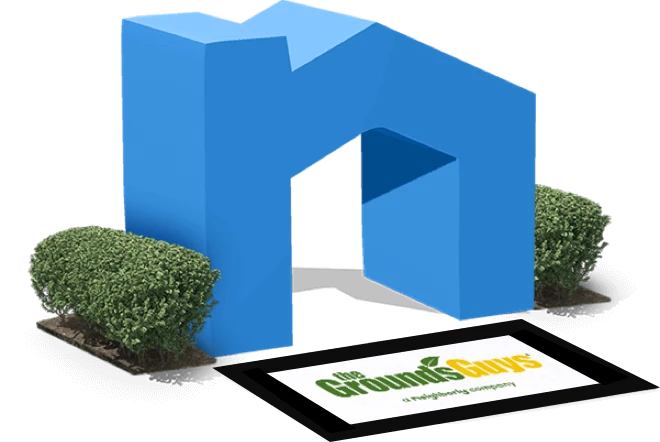 Neighborly®
The Grounds Guys is a Neighborly company. Lawn care and landscaping are some of the many home maintenance solutions available to you through Neighborly. At Neighborly, we are committed to being there for all your home service needs.
Learn More About Neighborly