Why Is Regular Landscaping in Kirkwood, MO, Important?
Kirkwood, Missouri, is known for its beautiful lawns and manicured landscapes. A quick walk around its neighborhoods will convince you of the power of good landscaping. Not only does keeping up with your landscaping increase your home's curb appeal and aesthetic beauty, but it also keeps your property value high.
Regular landscaping also helps to curate a safe and nourishing environment for you and your family. With pest-free and vibrant outdoor spaces, you'll want to spend all your time outdoors, grilling with your family or playing games in the yard. On top of this, you'll have pride and joy in your home that only good landscaping can build.
Benefits of Professional Lawn Care in Kirkwood, MO
Lawn maintenance in Kirkwood, MO, becomes a lot easier when you have professionals by your side. Our professionals bring decades of experience in maintaining properties to every job we do, offering a combination of specialized expertise and affordability you can't find elsewhere.
As we all know, doing your own lawn and property maintenance can be a lot of work. The amount of time and effort it takes to do your lawn care right can accumulate, especially if you have work and family obligations.
The professionals at The Grounds Guys of Kirkwood, MO, can do your lawn care and landscaping in Kirkwood, MO, faster with better results. What's more, we offer our Neighborly Done Right Promise™ every time.
Our Gardening Services in Kirkwood, MO
Gardening can be a great pastime, but taking care of your garden can be a lot of work. For instance, understanding the balance of the soil and planting the right flowers can feel like a full-time job in its own right.
That's where The Grounds Guys of Kirkwood, MO, come in. We are gardening experts who understand all the ins and outs of garden care in the Kirkwood area. Whether that's getting the balance of your soil just right or pulling weeds so your flowers or vegetables flourish, we get your garden to the place you want it to be. This is just another element of our landscaping in Kirkwood, MO, services.
What Other Services Do The Grounds Guys Offer in Kirkwood, MO?
One factor that sets The Grounds Guys of Kirkwood, MO, apart is our variety of services. From total landscaping makeovers to regular jobs such as lawn mowing and leaf cleanup, we take care of whatever facet of landscaping you need.
The following are some landscaping services we offer in Kirkwood:
Lawn and bed maintenance
Spring cleanup
Drainage
Flowerbed care
Tree work
Pest and weed control
Turf maintenance
Landscaping
Groundskeeping
Irrigation
Aeration
If you don't see a service you need on this list, chances are, we can help. Get in touch with us for a free estimate to get started.
Seasonal Services
Every landscaping professional knows how important seasonal services are. When it comes to the health of your lawn and garden, you must prepare for the inevitable shifts in weather. In Kirkwood, summers can be hot and humid, while winters can get frigid and kill your plants in no time.
Understanding what plants need to thrive in the Kirkwood climate is the first step in making your landscaping great. The team at The Grounds Guys of Kirkwood, MO, will also help with other steps, such as adequate drainage and irrigation installation, that will take the guesswork out of landscaping.
Here are some seasonal services we offer:
Planning and installing irrigation systems
Full lawn maintenance and care
Drainage work, including gutter repair and cleaning
Tree and shrub care all around your property
Flower care and color work in your garden
Spring and fall clean-up work, including hauling away refuse
Transportation and laying of mulch
Get In Touch With The Grounds Guys of Kirkwood, MO, for Great Landscaping
Don't let landscaping give you a headache. With The Grounds Guys of Kirkwood, you won't have to worry about building a landscape that works perfectly for the needs of your home. We'll help you get your property into great shape, no matter how big the job. Whenever you're ready,
contact us
to discuss your landscaping needs and get a
free estimate
from us today!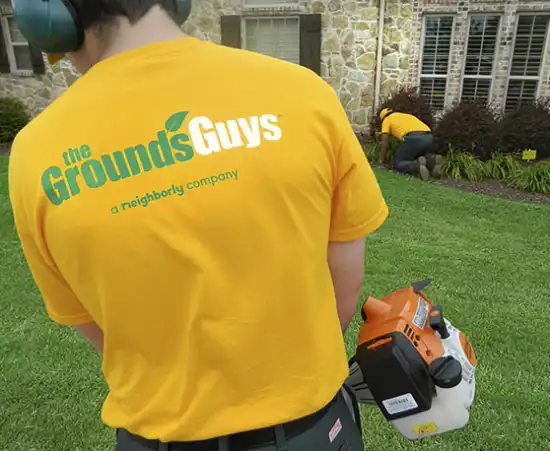 Customized Lawn Maintenance Programs
When you work with our experts, we personalize your lawn care program based on your lawn's size, health, topography, etc. We use this information to determine your required services and products.
With our assistance, you can also get the outdoor entertainment space of your dreams. We offer hardscape features like outdoor kitchens, fire pits, fountains, patios, and more.
We provide various eco-friendly options and state-of-the-art tools that help you save time and money on expensive lawn equipment. Leave the heavy lifting to our team by trusting us to make viable recommendations in the best interest of your lawn.
The Grounds Guys of Kirkwood, MO
Areas We Serve:
Ballwin, Saint Louis
Our Difference
Professional, Uniformed Personnel

Timely Response Guarantee

Safe, Reliable Equipment Maintained Daily

Status and Quality Reports Delivered Timely
Request Job Estimate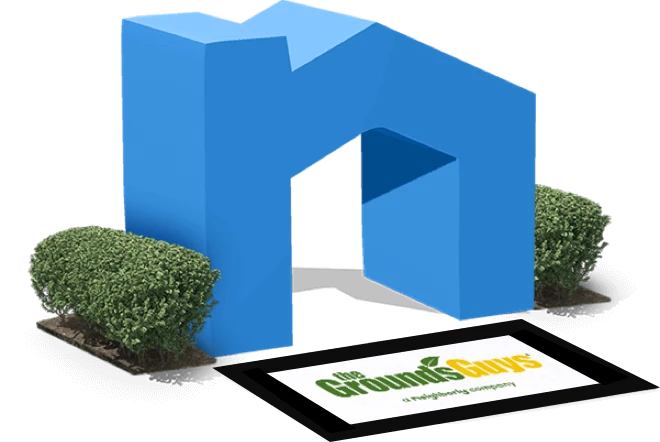 Neighborly®
The Grounds Guys is a Neighborly Company. Lawn care and landscaping are some of the many home maintenance solutions available to you through Neighborly. At Neighborly, we are committed to being there for all your home services needs.
Learn More