It's Time to Consider Regular Landscaping in Helotes, TX
They say the grass is always greener on the other side. If you're tired of the lawns of the neighbors looking better than your own, it might be time to upgrade your landscaping in Helotes, TX. Landscaping, like regular mowing, watering, and fertilizing, can keep your lawn green and healthy. Regular lawn maintenance in Helotes, TX, can also:
Boost your pride of ownership in your home
Increase the value of your property
Prevent yard problems before they occur
Keep away pests and weeds
Regular landscaping does take a lot of work, but the results are worth the effort.
Learn About the Benefits of Professional Lawn Care in Helotes, TX
What if you don't have time to mow your lawn each week or fix your irrigation system every time it breaks? Residents of Helotes have all sorts of better ways to spend their time. After all, you could enjoy an afternoon with friends in Old Town Helotes or improve your long game at Oak Valley golf course.
If you don't want to sacrifice your limited free time doing lawn maintenance in Helotes, TX, consider hiring a professional lawn care service such as The Grounds Guys of Helotes, TX. There are a lot of big benefits to consider.
Professional lawn care in Helotes, TX, can:
Save you lots of time and hassle
Free you from challenging labor
Provide you with localized expertise
Give you reliable results
Make your lawn look its very best
You absolutely can have a beautiful lawn without having to drag the mower out of your garage every weekend.
Let Us Help You With Your Gardening Services
When given the right amount of care and attention, a garden can be a beautiful addition to your yard. Taking good care of a garden can be difficult, though, especially with cold snaps in the spring or weeks of hot weather in the fall. You don't have to watch your garden struggle and wilt.
The Grounds Guys of Helotes, TX, can bring your garden back to life. We understand Helotes's unique environment, including its climate challenges and soil zone. We know which flowers and plants do best in the local climate and how to help plants thrive.
We can even help you plan your garden from scratch if you want to add one to your property.
Learn All About Our Landscaping Services
The climate can make it a challenge to keep lawns, gardens, and landscape features in Helotes looking good throughout the year. This is especially true during the long, hot summers. At The Grounds Guys of Helotes, TX, we understand what it takes to keep your lawn beautiful year-round. We offer a range of lawn care services in Helotes and the surrounding San Antonio area.
From weekly or bi-monthly lawn upkeep to large seasonal services, or even one-off landscaping projects, we can do it all. Tell us what you need, and we can put together a customized service plan just for you. Need help with a special project, like installing landscape lighting or putting in a hardscape feature? We can do that, too.
Here is just a partial list of our services:
Flower maintenance
Mowing
Mulching
Aeration
Landscape design and installation
Aquatic displays
Fertilization
Reseeding
Sod installation
Irrigation repair
Irrigation installation
Landscape lighting installation
Seasonal landscape display
Seasonal cleanups
Tree trimming and removal
Pest control
Pruning
Don't see something on our list? Contact us to inquire. Chances are we can help.
Seasonal Services
It's important to prep your lawn for the season ahead so your yard can thrive in every season. Popular seasonal chores include:
Pruning
Spring cleanup
Fall cleanup
Mulching
Seasonal color
Turf maintenance
Irrigation repair
Gutter cleaning
It's a good idea to perform a spring cleanup when winter ends. This is also a great time to fertilize your lawn and start your spring garden. When the hot summer weather rolls in, focus on weeding and pest control. You'll also want to check your irrigation to ensure it's working at full efficiency. As the weather cools, start your fall garden. Now is the time for raking, mulching, and another round of fertilization to protect your lawn through the winter.
Get Unbeatable Service with The Grounds Guys of Helotes, TX
Don't entrust your lawn to just any landscaping service. Choose a crew of reliable, responsible, and knowledgeable professionals. At The Grounds Guys of Helotes, TX, our work is backed up by the Neighborly Done Right Promise™ that guarantees customer satisfaction.
Put us to the test. Contact us today for a free estimate!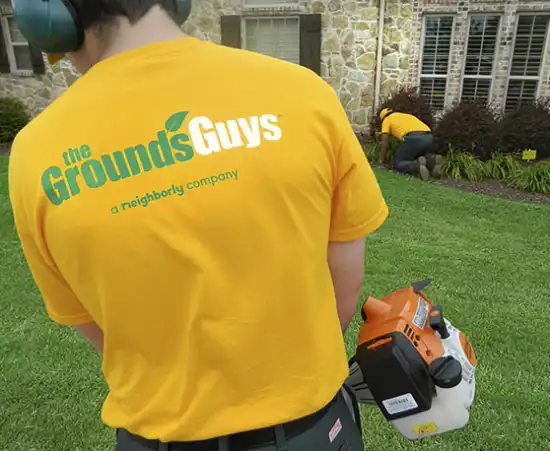 Your Lawn Says a Lot About You. Is it Saying What You Want it to Say?
They say "clothes make the man" – and some would also say that landscaping makes the property. That's why our team of groundskeepers goes the extra mile to make your vision a reality. From simple lawnmowing to completely overhauling your outdoor space, our customers can expect us to deliver exceptional customer service tailored to their needs and requests. When you work with The Grounds Guys, you can expect top-quality lawn and landscape solutions from start to finish.
To get started, call us for your free estimate.
The Grounds Guys of Helotes TX
Areas We Serve
Boerne, Helotes, San Antonio
Our Difference
Professional, Uniformed Personnel

Timely Response Guarantee

Safe, Reliable Equipment Maintained Daily

Status and Quality Reports Delivered Timely
Request Job Estimate
Partnerships & Achievements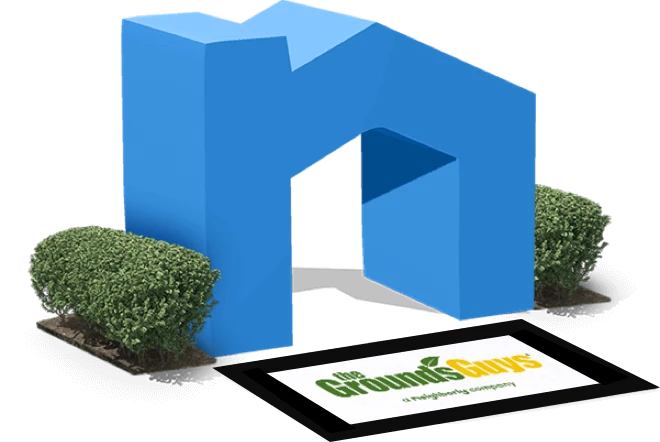 Neighborly®
The Grounds Guys is a Neighborly Company. Lawn care and landscaping are some of the many home maintenance solutions available to you through Neighborly. At Neighborly, we are committed to being there for all your home services needs.
Learn More About Neighborly