Understand the Importance of Regular Landscaping in Avon, OH
Avon gets all four seasons. That includes a gorgeous fall and beautiful spring but also a hot summer and often snowy winter. Your lawn has a lot to deal with, which is why you have to care for your yard regularly. If you don't provide ongoing lawn maintenance in Avon, OH, your lawn could get yellow and patchy. It could attract pests and weeds and bring down the curb appeal of your home.
The solution? Regular landscaping in Avon, OH. The benefits of landscaping include
Greater pride of ownership
A cleaner and safer lawn for your family
Increased home value
Meeting neighborhood standards.
Is It Time for Professional Lawn Care in Avon, OH?
If you've been taking care of your own lawn for a while, then you already know how time-intensive and physically challenging it can be. Do you really want to be mowing your lawn or raking leaves when you could be enjoying your valuable free time? Think of all the things you could be doing instead of working on your lawn.
You could be searching for treasure at the annual Aunt Tique and Uncle Junque event, ordering a lobster bisque at the Tree House Gallery and Tea Room, or rooting on your local Eagles during Friday night lights.
Take back your time and give your body a rest by investing in professional lawn care in Avon, OH. You'll also get the benefit of knowledgeable lawn care professionals who can keep your lawn looking gorgeous throughout the year.
We Can Keep Your Garden Blooming
A garden can add beauty to your property and help you enjoy time spent outdoors even more. However, gardens can also take a lot of work. If you're tired of weeding, trimming, and fighting pests, call The Grounds Guys of Avon.
We are happy to take over your garden care. We can also help you plan each seasonal garden and make planting recommendations based on your vision, your property, and your budget. Don't have a garden yet? That's not a problem. We can even build your garden from scratch.
Take a Look at All Our Landscaping Services
If it involves lawn care, chances are we can do it. Whether you need ongoing lawn maintenance in Avon, OH, seasonal services, or one-off projects, we're here to help. We love sitting down with customers to learn about their landscaping needs. We can then put together a personalized care plan for you based on your vision and budget.
Need regular mowing? We've got you covered. Have a dead tree that needs to be removed? We'll do it. Have you recently moved and want to completely redo your landscape? Yep, we can help with that, too.
Here's just a short list of some of our services.
Lawn maintenance
Bed maintenance
Pruning
Irrigation
Irrigation repair
Artificial turf
Spring clean-up
Fall clean-up
Lawn aeration
Lawn seeding
Mulch
Seasonal color
Tree work
Landscape
Aquatic Management
Pest control
Weed control
Sod installation
Outdoor Lighting
Holiday Lighting
Snow and ice management
Don't keep doing all your own yard work. You've got a life to live. Contact us today.
Learn the Value of Seasonal Services
Have you ever heard the phrase "an ounce of prevention is worth a pound of cure"? That's so true for many things in life including lawn care. Seasonal services help your lawn recover from the past season and prepare your lawn for the season to come. By incorporating seasonal services into your lawn care plan, you'll ensure that your lawn can stand up to anything.
Popular seasonal services include
Seasonal clean-ups
Aeration
Fertilization
Re-seeding
Sod installation
Raking
Mulching
Snow removal
Choose a Company That Respects Your Property
At The Grounds Guys of Avon, we treat your property as if it were our own. We only use the best practices and the best lawn care equipment and materials. We take great pride in our work and ensure our team shows up on time and in uniform.
If you are looking for a reliable lawn care company that keeps your lawn looking its best, then take a look at our Neighborly Done Right Promise™. That's our promise to all of our customers. Don't live in Avon? We are proud to serve the surrounding areas of Avon Lake, North Ridgeville, and Westlake.
Ready to transform your lawn? Request a free estimate today.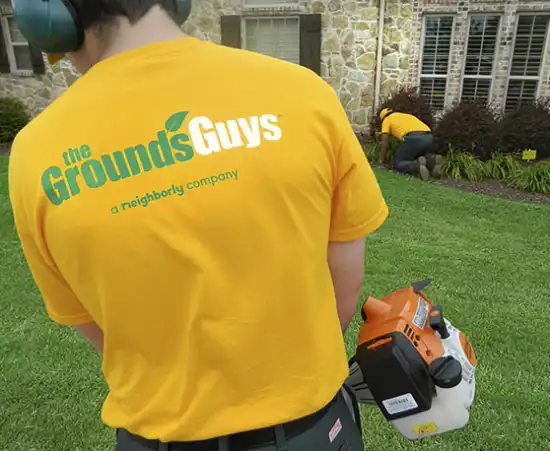 Putting Customers First in Everything We Do
When it comes to your lawn care, commercial landscaping, and property maintenance, you want a team you can trust to get the job done right. More than that, you want a team that puts you first as the customer in everything they do.
Our core values revolve around C.A.R.E, which means we always put our:
CUSTOMERS FIRST, by always having a positive and helpful
ATTITUDE, and by treating everyone and everything with
RESPECT. By living our code of values we
ENJOY LIFE in the process
Our unique approach to caring for our customers makes us stand out in this industry. On top of that, we arrive in clean, branded vehicles, provide regular status and quality reports. We always utilize equipment that is safe and properly maintained.
We're expertly equipped whether we are doing snow and ice management in Avon or lawn bed maintenance in North Ridgeville. You can expect our crews to arrive on time and in professional uniforms, giving you peace of mind and assurance.
How Much Does Lawn Care Service Cost?
Avon lawn care involves more than just mowing. The services we offer can also include aeration, turf maintenance, mulching, and seasonal cleanup. However, the total cost of Avon lawn care depends on three things:
Size of your lawn
Services needed
Number of landscapers needed
For example, mowing alone can range from $32 to $400. More extensive lawns require more time and effort to cover, so a larger lawn of a home or business with more ground to cover will cost more to mow.
We design our lawn care services to be thorough and professional, so your lawn will look fantastic throughout the year.
Schedule Avon Landscaping & Lawn Maintenance Today
The Grounds Guys of Avon is here to handle your grounds care with professionalism and attention to detail. We know that our customers can have wide ranging needs when it comes to their properties, which is why we offer comprehensive services to address these needs.
Whether you live in Avon Lake or North Ridgeville, our Avon landscaping professionals are ready to help you maintain your property.
Give our team a call today! We keep your property beautiful.
The Grounds Guys of Avon
Areas We Serve
Avon, Avon Lake, North Ridgeville, Westlake
Our Difference
Professional, Uniformed Personnel

Timely Response Guarantee

Safe, Reliable Equipment Maintained Daily

Status and Quality Reports Delivered Timely
Request Job Estimate
Partnerships and Achievements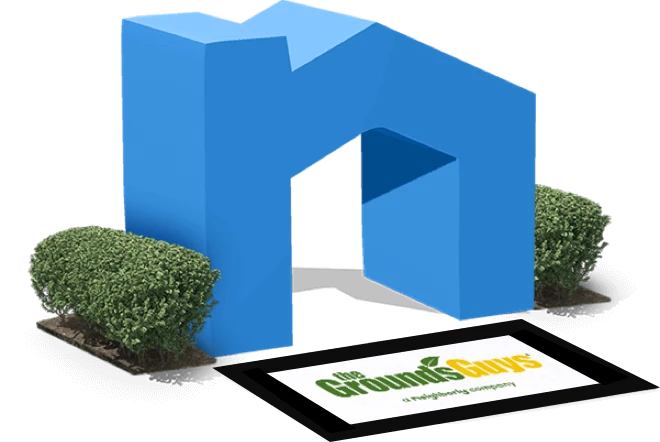 Neighborly®
The Grounds Guys is a Neighborly Company. Lawn care and landscaping are some of the many home maintenance solutions available to you through Neighborly. At Neighborly, we are committed to being there for all your home services needs.
Learn More About Neighborly