Bay Shore is a beautiful community. Architects and city planners were clearly inspired by the natural splendor of the Great South Bay. When you hire The Grounds Guys for landscaping in Bay Shore, NY, we'll ensure your property sparkles in its setting.
Why Is Regular Landscaping in Bay Shore, NY, Important?
Quality landscaping is the best way to sell your home fast. It boosts your property values and improves curb appeal. But why wait to enjoy your property at its best and only make money from it? Professional landscaping in Bay Shore, NY, makes your grounds more attractive, more comfortable, and healthier for your family to enjoy. Relax and recharge, take in the sunset, fire up the grill for dinner, and dine on the patio. Too often, we overlook making our outdoor spaces welcoming and livable.
Not only will you and your family appreciate our services, but the neighbors will, too. When we get to work, we clear your garden of noxious weeds and an array of pests that carry diseases and allergens throughout the neighborhood. That doesn't just make your property healthier; it benefits the neighbors, too, because those weeds and pests have no respect for property lines.
Benefits of Professional Lawn Care in Bay Shore, NY
A well-manicured lawn and beautifully tended grounds provide many benefits. And it demonstrates your pride in and commitment to your community. However, it is also a great deal of work. If you lack the proper tools and experience, you are all too likely to encounter frustration, make costly mistakes, and risk muscle strain. So, instead, why not call on a neighbor, and enlist The Grounds Guys for professional lawn care in Bay Shore, NY?
We are happy to do the heavy lifting for you. And you can count on us doing the job right the first time. The Neighborly Done Right Promise™ protects you when The Grounds Guys of Bay Shore are on the job, ensuring you will always be pleased with our results.
How Can The Grounds Guys Help with Gardening Services in Bay Shore, NY?
When The Grounds Guys of Bay Shore gets to work, we start well below the surface of your property. We dig in and cultivate the soil, enriching its organic components. We work to improve the drainage and nutrient accessibility for tender roots. We also remove the weeds that compete with your lawn, flowers, and shrubs for resources.
Establishing a healthy foundation like this is the first stage of our lawn maintenance in Bay Shore, NY. Next comes the fun stuff. We repair and nourish your lawn until it grows lush and green. Next, we rehabilitate your flower beds, ensuring a bounty of colorful blooms all year. We then focus on your shrubs and trees, correcting errant growth and helping them to become more robust. Finally, we carefully polish the edging where plant life meets hardscape so your property shines its best.
What Services Do The Grounds Guys Offer in Bay Shore, NY?
The Grounds Guys provides a comprehensive package of garden maintenance and landscaping services in Bay Shore, NY. But we tailor our work to your specific needs and goals. So whether you're planning a complete redesign or simply want help to maintain what you have, we're your full-service solution. Let us help you bring your vision for your property to life.
We provide the following gardening services in Bay Shore:
Lawn care
Aeration
Landscaping
Bed Maintenance
Groundskeeping
Flower bed care
Irrigation
Drainage
Tree work
Weed and pest control
Seasonal Services
Your landscape goes through many changes as the seasons turn. From hot, humid summers to cold, snowy winters, The Grounds Guys of Bay Shore will be there to provide for your property's needs.
We provide the following landscaping and lawn maintenance services in Bay Shore, NY:
Pruning
Spring clean-up
Seasonal color
Mulching
Turf maintenance
Irrigation repair
Gutter cleaning
Fall clean-up
Snow and ice removal
Call The Grounds Guys of Bay Shore for Excellent Service
Call On The Grounds Guys of Bay Shore for a free estimate for the landscape of your dreams. We welcome your questions!
Contact us online or call us today. We'll make your property the jewel of your neighborhood.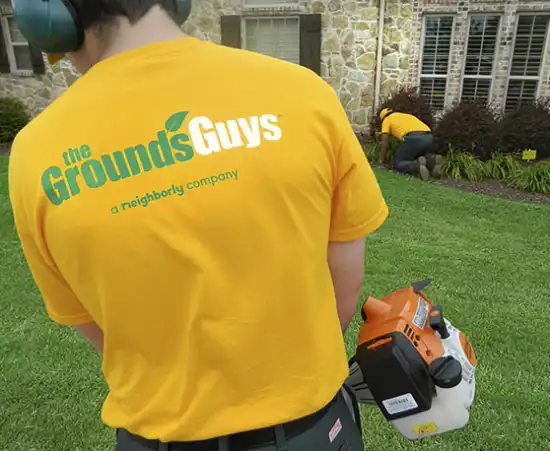 Landscaping Solutions for Any Property
Utilizing proven methods and the latest tools in the industry, our team is ready to assist you in whatever you need to keep your lawn in tip-top shape. From flowerbed installation and maintenance to seasonal clean-up and pruning, The Grounds Guys of Bay Shore is dedicated to becoming your go-to company for all of your landscaping needs in the local and surrounding communities!
Some of the services we provide include:
Seasonal clean-up services
Outdoor lighting
Turf enhancements
Sod installation
Seasonal color
Hardscape design and installation
Pest and weed control
Fertilization
With customizable landscaping schedules, fully equipped teams, and convenient scheduling options available, we'll be there to help take care of your lawn whenever you need us. Whether it's weekly or monthly, we're able to adjust the frequency of your lawn care services with ease. Give us a call today!
Request a job estimate online for our Bay Shore lawn care services today!
The Grounds Guys of Bay Shore
Areas We Serve:

Bay Shore, Brightwaters, Deer Park, East Islip, Islip, North Babylon, West Islip
Our Difference
Professional, Uniformed Personnel

Timely Response Guarantee

Safe, Reliable Equipment Maintained Daily

Status and Quality Reports Delivered Timely
Request Job Estimate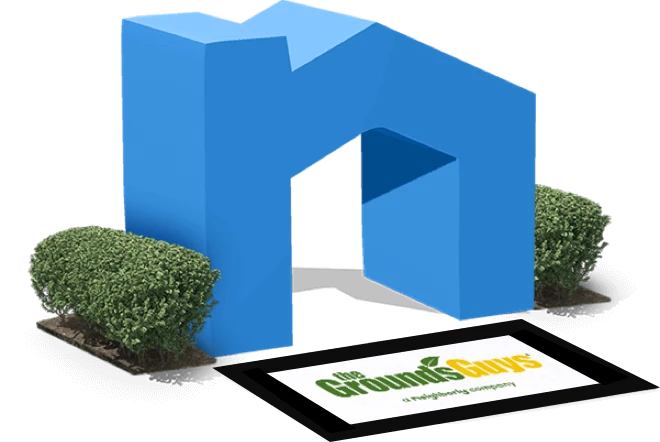 Neighborly®
The Grounds Guys is a Neighborly Company. Lawn care and landscaping are some of the many home maintenance solutions available to you through Neighborly. At Neighborly, we are committed to being there for all your home services needs.
Learn More