Why Is Regular Landscaping in Olathe, KS Important?
Regular landscaping in Olathe, KS, is essential for many reasons. Not only does it improve the aesthetic appeal of your home, but it also affects your property's value. If you're looking to sell your home, potential buyers are more likely to view your home if it has great curb appeal.
Well-maintained landscaping in Olathe, KS, also ensures that your lawn and plants are healthy. Healthy plants can benefit you by absorbing carbon dioxide and releasing oxygen, cleaning the air around you.
Routine landscaping also prevents invasive species from taking over and prevents plants from growing and thriving. The invasive species may also be in the form of big and small pests. An unkempt property may draw bugs, attracting even larger insects like spiders.
Invasive species aren't limited to bugs either. They can come in the form of weeds, too. Examples include Silverleaf Nightshade, Japanese Barberry, and Common Buckthorn.
Why Would You Want Professional Lawn Care in Olathe, KS?
Professional lawn care in Olathe, KS, provides the home or business owner with many benefits. You lead a busy life and don't want to give up your time maintaining your lawn. Doing the work yourself can also become expensive when you don't get the desired results.
Maintaining a lawn can be a time-consuming project. When you hire professionals, you free up time to spend with family, focus on your business, pursue hobbies, tackle other tasks, or even enjoy Olathe's numerous parks and trails for a morning jog or hike.
You can save money in the long run, too. As experts in what we do, we can anticipate and catch potential issues with your lawn. Thanks to our reliable results, you will avoid unnecessary or incorrect treatments for your property and plants.
Can The Grounds Guys Assist with Gardening Services in Olathe, KS?
When it comes to gardening services in Olathe, KS, consider us your garden gnomes. In other words, we love to garden! Our gardening services in Olathe, KS, will suit your needs and meet your budget for a fantastic and healthy garden year-round.
Our gardening solutions include:
Soil cultivation: Well-cultivated soil equals healthy landscaping.
Weed control: Weeds can choke out your plants; you don't want that!
Flower care: We'll trim dead buds to make space for new ones.
Defining garden bed edges: A well-defined garden is aesthetically pleasing.
Raking: We'll keep your garden free of debris.
What Services Do The Grounds Guys Offer in Olathe, KS?
The Grounds Guys of Olathe are your go-to service for all your landscaping, lawn care, and gardening needs. We love what we do, and our pledge to you is the Neighborly Done Right Promise™ to ensure our work is completed to the highest standard.
Instead of letting potential stress about caring for your property's landscaping get you down, know that The Grounds Guys of Olathe are there for anything on your lawn care to-do list.
We understand the need for a healthy landscape in Olathe, KS, and provide the following services in Olathe:
Pest and weed control - We'll keep your landscape pest and weed-free.
Irrigation installation & repair - Whether you need new lawn irrigation or repair, The Grounds Guys are on the job.
Drainage - Your local The Grounds Guys of Olathe professionals can install a drainage system to prevent groundwater problems from escalating.
Tree work - Pruning your trees at the wrong time can actually hurt the tree, so our team is available for pruning solutions when the time allows for healthy maintenance and growth.
Seasonal Services
Whether you're dealing with the cold, snowy season of winter or the warm, rainy, and muggy season of summer, our seasonal services have you covered with the following:
Mulching - Protect your plants and shrubs from snow or rain while nourishing them!
Seasonal color – From the vivid colors of spring to the more muted colors of fall, we have solutions to help add color to your landscape to make it stand out.
Gutter cleaning - Be ready for those April showers rains with clean gutters free of debris.
Expect Excellent Service When You Call The Grounds Guys of Olathe
When you're ready for lawn and garden care, call our team at The Grounds Guys of Olathe to set up a free estimate of your project or routine maintenance. Contact us today for any questions about your property in the Hillsdale, Leawood, Olathe, Osawatomie, Overland Park, Paola, or Spring Hill areas.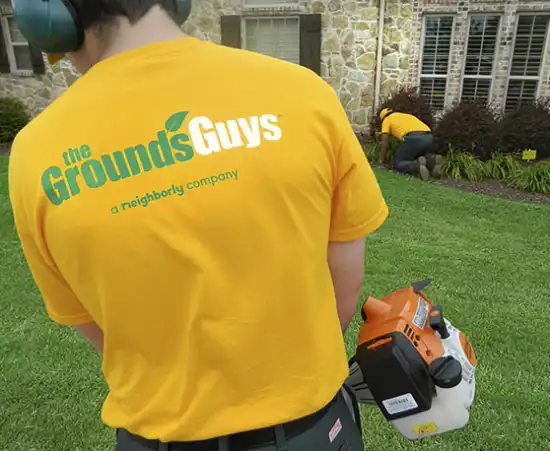 Landscape Company grass and soil Contact Our Grounds Care Specialists
No matter your needs of specific wants, we encourage you to get in touch with The Grounds Guys of Olathe as soon as possible. We know that a well-kept lawn says a lot about your home or business; we are committed to helping ensure it says exactly what you want. We, however, do not just deliver high-end landscaping services. We also center our solutions on our 5 values, including the usage of clean and branded vehicles, uniformed personnel, guaranteed timely responses, and safe equipment.
Call to request a free estimate!
We serve residences and businesses in Baldwin City, Belton, Bucyrus, De Soto, Edgerton, Eudora, Fontana, Gardner, Grandview, Kansas City, Lane, Leawood, Lenexa, Linn Valley, Louisburg, Olathe, Osawatomie, Ottawa, Overland Park, Paola, Parker, Rantoul, Spring Hill, and Wellsville.
Light Up Your Holidays This Year
Want to turn your home or business into a winter wonderland? Let The Grounds Guys tackle your holiday lighting for you!
See How
The Grounds Guys of Olathe
Choose the right grounds care services team in your area. When it comes to selecting the right team for your commercial or residential lawn care and landscaping services, The Grounds Guys is the right choice.
Areas We Serve
Hillsdale, Leawood, Olathe, Osawatomie, Overland Park, Paola, Spring Hill
Our Difference
Professional, Uniformed Personnel

Timely Response Guarantee

Safe, Reliable Equipment Maintained Daily

Status and Quality Reports Delivered Timely
Request Job Estimate
Partnerships and Achievements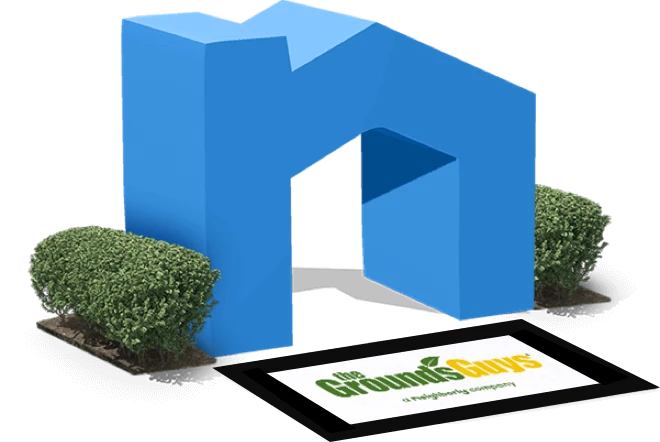 Neighborly®
The Grounds Guys is a Neighborly company. Lawn care and landscaping are some of the many home maintenance solutions available to you through Neighborly. At Neighborly, we are committed to being there for all your home service needs.
Learn More