Regular Landscaping in New Braunfels, TX, Is Important
Routine landscaping in New Braunfels, Texas, and surrounding areas is absolutely vital to the health and beauty of your lawn. Improve your curb appeal and retain your high property value by investing in intelligent landscaping design that makes the most of available water and nutrients. From irrigation to xeriscaping, The Grounds Guys of New Braunfels know what it takes to keep your Hill Country home or business looking its best.
In addition to appearances, there are many practical reasons to stay up on your landscaping in the Texas Hill Country. Proper care will keep your lawn and plants healthy, as well as keep those pesky sandburs at bay! Careful planning will reduce unwanted habitats near your buildings, reducing pests and creating a safe, clean environment for your family or clients. Regular lawn care can also find and correct minor issues before they become expensive repairs.
What Are the Benefits of Professional Lawn Care in New Braunfels, TX?
Professional lawn care in New Braunfels, Texas, means less time and labor for you and more specialized expertise for your lawn. By trusting The Grounds Guys of New Braunfels with your landscaping, you gain access to our experience and professional equipment while freeing up your own time and storage for the things that matter to you. Use your outdoor spaces more with thoughtfully designed landscaping that fits your lifestyle!
We serve New Braunfels as well as the following areas: Canyon Lake, Cibolo, Marion, McQueeney, San Antonio, Schertz, and Universal City. We know the Texas Hill Country and its unique benefits and challenges. From the double growing season to the limestone soil, New Braunfels and surrounding areas have a unique set of conditions that, when harnessed properly, can yield beautiful, interesting landscapes. The Grounds Guys of New Braunfels can bring out the natural beauty of your property.
The Grounds Guys Provide Lawn Maintenance in New Braunfels, TX
From shaded river bottoms to dry hills, lawn maintenance in New Braunfels, Texas, is an exercise in diversity. We address your particular property, offering soil cultivation, irrigation, and drainage to balance water and nutrients. Weed control is vital in the Hill Country, as is the selection of drought-resistant grass and appropriate plants. We offer flower care to keep your seasonal plants blooming for as long as possible.
We also attend to the necessary details that keep your lawn and garden beds looking their finest. We define the edges of your beds clearly, and we clear debris and rake as needed to maintain a clean appearance.
The Grounds Guys of New Braunfels provide the reliable results and upfront pricing you need. We pride ourselves on excellent service—we even offer a Neighborly Done Right Promise™ to ensure that you are satisfied with your landscaping services.
The Grounds Guys of New Braunfels Services
The Grounds Guys of New Braunfels can work with you on any Hill Country landscaping project. From initial planning, implementation, and hardscaping to simple lawn and bed maintenance, we can handle it all! We know what it takes to create useful outdoor spaces that extend your living areas. We can provide water-smart services such as xeriscaping that will keep your lawn looking great even in the height of the Texas summer. Since we tailor the services you receive to the individual needs of your property, this is only a partial list of the services we provide.
Pest and weed control
Landscaping
Irrigation
Flower bed care
Tree work
Lawn and bed maintenance
Turf maintenance
We provide up-front pricing that reflects the needs of your property and your lifestyle. Contact us today for free estimates to see what we can do for you!
Seasonal Services
The Hill Country has two growing seasons, punctuated by heat and cold. Our services accommodate the cycle of the Texas year. These are some of our seasonal services:
Spring: Clean-up, color, and irrigation repair
Summer: Lawn and bed maintenance
Fall: Mulching, turf maintenance, gutter cleaning, color, and clean-up
Winter: Pruning and tree care
Need Exceptional Service? Call The Grounds Guys of New Braunfels!
We have your landscaping services covered, no matter how big or small. We offer the reliability, results, and exceptional service you need. Contact us today to see how we can bring your landscaping vision to life!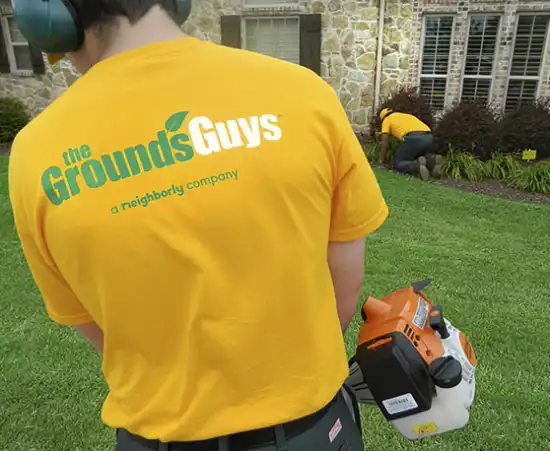 Comprehensive Grounds Care with a Green Focus
At The Grounds Guys of New Braunfels, we take pride in offering a comprehensive range of lawn care and landscaping services for our customers. From organic lawn care to traditional programs, we do it all. You can call on our team of landscaping specialists for turf maintenance, landscaping enhancements, irrigation repair, fertilization, weed control, seasonal clean-up, and much more!
The Grounds Guys of New Braunfels
Areas We Serve


Canyon Lake, Cibolo, Marion, McQueeney, New Braunfels, San Antonio, Schertz, Universal City
What People Are Saying About The Grounds Guys of New Braunfels
Our Difference
Professional, Uniformed Personnel

Timely Response Guarantee

Safe, Reliable Equipment Maintained Daily

Status and Quality Reports Delivered Timely
Request Job Estimate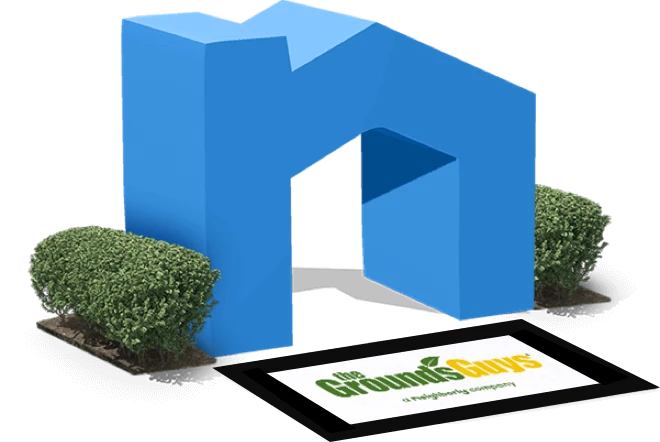 Neighborly®
The Grounds Guys is a Neighborly Company. Lawn care and landscaping are some of the many home maintenance solutions available to you through Neighborly. At Neighborly, we are committed to being there for all your home services needs.
Learn More