Why Regular Landscaping in Wichita, KS, Is Important
There are tons of things to do in Wichita, Kansas, such as visiting the Sedgwick County Zoo, checking out The Waterfront, and bringing the kids to Old Mill Tasty Shop. With so much on your plate, it's easy to overlook the needs of your lawn.
However, the only way to get an emerald green yard is to perform regular landscaping in Wichita, KS. Ongoing lawn maintenance can also increase the value of your home, boost your curb appeal, and give you a great sense of pride in your home. That's worth the effort, right?
Do You Need Professional Lawn Care in Wichita, KS?
You might understand the need for lawn maintenance in Wichita, KS, but what if you don't have the time to mow, weed, and rake every weekend? More to the point, what if you'd rather do something else, like cheer on the Wichita Wingnuts or hang with friends in Old Town?
We've got some good news for you: You can hire The Grounds Guys of Wichita to oversee your lawn care in Wichita, KS. Our professional lawn care comes with all sorts of great benefits.
It saves you time.
You'll receive localized expertise.
We bring all the equipment.
We can catch problems before they get out of control.
Hiring a team to perform lawn maintenance in Wichita, KS, does cost money, but our customers find it's money well spent.
Have You Always Wanted a Garden?
A garden can transform your yard into a zen retreat, but it takes a lot of work, especially in Wichita's fickle weather. The Grounds Guys of Wichita can assist if you've always dreamed of adding a garden to your property. We will recommend the right flowers and plants according to your vision and budget.
Already have a garden? Let us take over and help your plants flourish. We can weed, provide seasonal cleanings, and prep your garden for the spring and fall growing seasons.
Check Out All Our Landscaping Services in Wichita
At The Grounds Guys of Wichita, we are a full-service landscaping company. We provide ongoing lawn care in Wichita, KS, as well as seasonal care and one-off projects, like hardscape installation and landscape lighting. Tell us what you need, and we will create a customized plan for you.
Our local team understands that yards can be very different depending on where you live in Wichita. That's why we cover everything, from simple mowing and tree trimming to installing irrigation systems.
Take a look at some of our more popular services:
Aeration
Fertilization
Re-seeding
Irrigation installation
Seasonal clean-ups
Tree trimming
Sod installation
Irrigation repair
Tree removal
Weeding
Flower Maintenance
Mowing
Mulching
Pest control
Pruning
Hardscape design
Landscape installation
Landscape lighting installation
Hardscape installation
Landscape design
Seasonal landscape display
Aquatic displays
Not sure what your lawn needs? We're happy to send our specialists out to review your lawn and provide recommendations based on your goals and budget. Contact us today!
Seasonal Services
Few places experience the seasons quite like Wichita. Your yard must withstand snowy winters, sizzling summers, soaking rain storms, and maybe even the occasional tornado. Seasonal services can help prepare your lawn for upcoming weather patterns.
Spring
Help your lawn recover with a round of fertilization. You may also need to re-seed or install sod over bald patches.
Summer
Pest control services can keep your yard safe for friends and family members.
Fall
Fertilize your lawn again before winter. Before the cold weather hits, start your fall garden early to make the most of your colorful blooms.
Winter
While there isn't much to do for your lawn when the snow starts falling, we do offer snow removal services.
Work with a Landscaping Company You Can Trust
Great customer service is at the heart of our company. That's why we offer all our customers our Neighborly Done Right Promise™. If you want to work with a company that will arrive on time, show respect to your property, and always do a great job, then choose The Grounds Guys of Wichita.
We are proud to serve the entire Wichita area as well as Andover, Augusta, Derby, El Dorado, and Kechi. Request a free estimate today!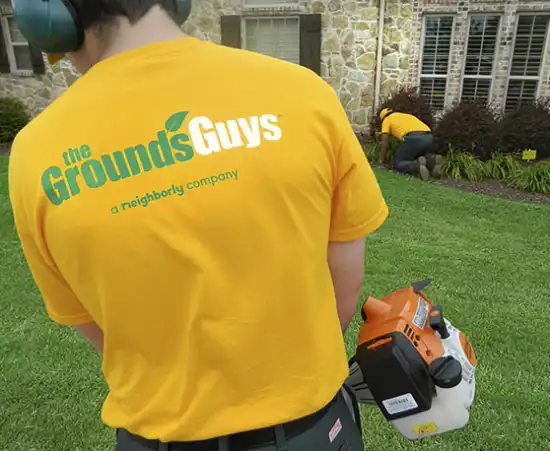 What Sets Our Ground Care Specialists Apart?
At The Grounds Guys of Wichita, we pride ourselves on our culture of caring. By living our code of values, we not only exceed our Wichita customers' expectations but enjoy life in the process. In everything that we do, we put our customers first, maintain a positive attitude, and treat everyone with respect.
Just two of the ways we show our respect include the following:
Safety – We believe in minimizing risk and promoting safety. For this reason, every foreperson is First Aid certified and every employee receives the necessary training on proper safety procedures.
Environment – We take our environmental responsibility seriously. That is why we use eco-friendly alternatives to landscape chemicals, use low-emission fuels, have a no-idly policy, and more!
How Much Does Landscaping Cost?
Landscaping costs will vary greatly depending on the following factors:
Type of service
Size of the property
Number of landscapers required to complete the project
The cost depends on the overall expense of your project, which will depend on what you want to accomplish. For example, if you just want your lawn mowed, our Wichita landscaping company can provide a one-time service or regularly scheduled lawn maintenance. The cost of that service will depend on the size of your lawn. However, more expensive services include a full landscape makeover, which might involve installing or replacing hardscape features such as ponds, walkways, and outdoor lighting fixtures. The national average sits around $700, but costs can range from $320 to $20,000.
Call our lawn care technicians to discuss the services you need. We offer upfront costs and estimates, so you always know what to expect!
Are you ready to put the best face to your home or business? Our Wichita lawn care team can help! Contact The Grounds Guys of Wichita today to request your free estimate. Get in touch with us by calling today.
The Grounds Guys of Wichita
Choose the right grounds care services team in your area. When it comes to selecting the right team for your commercial or residential lawn care and landscaping services, The Grounds Guys is the right choice.
Areas We Serve
Andover, Augusta, Derby, El Dorado, Kechi, Mcconnell Afb, Wichita
Our Difference
Professional, Uniformed Personnel

Timely Response Guarantee

Safe, Reliable Equipment Maintained Daily

Status and Quality Reports Delivered Timely
Request Job Estimate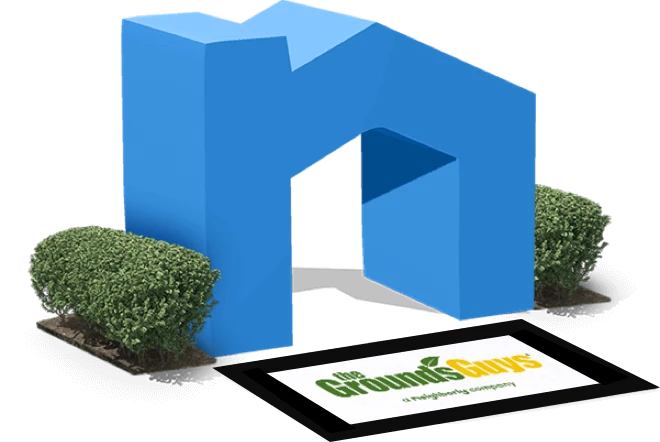 Neighborly®
The Grounds Guys is a Neighborly company. Lawn care and landscaping are some of the many home maintenance solutions available to you through Neighborly. At Neighborly, we are committed to being there for all your home service needs.
Learn More