Why is Routine Landscaping in Alpharetta, GA, Necessary?
Routine landscaping in Alpharetta, GA, has many benefits. It helps maintain the appearance, value, safety, and health of your property.
When bushes become unkempt, weeds start to take over, and your yard collects debris every time the wind blows, it's time to consider routine landscaping in Alpharetta, Georgia. Some additional benefits include:
Improved curb appeal - An appealing property from the road gets people to pay attention.
No more pests - When your property is well-maintained, pests head elsewhere.
A clean and safe environment - Overgrown trees and shrubs can pose a safety hazard, especially in bad weather. Routine landscaping can help identify and remove these hazards before they become a serious problem.
Healthy lawn and plants - Regular pruning and mulching plants help prevent disease and pests, leaving you with a beautiful healthy property.
Maintained property value - Properly maintained landscaping has an impact not just on your property value but the value of your neighborhood as well.
Aesthetics - Well-manicured lawns, trimmed shrubs, and colorful flowers make your property pleasing to the eye. Imagine the pride you'll feel as drivers slow down to check out your lawn!
At The Grounds Guys of Alpharetta, we work with both residential and commercial clients. Contact us for a free estimate today!
Benefits of Professional Lawn Care in Alpharetta, GA
Professional lawn care in Alpharetta, GA, offers many benefits to you as the property owner. Just some of the perks involve:
Saving you time - Lawn care can be time-consuming, particularly on large properties. Hiring professionals to take over frees up your time to focus on more important tasks, such as your job or family time.
Giving you the advantage of experts - Hiring professionals in lawn care in Alpharetta, GA, gives you the advantage of utilizing their expertise in lawn care. They can help you keep your property looking great all year round.
Getting results you can count on - No more wondering why your grass won't grow or whether your trees are suffering from disease. With a professional company like The Grounds Guys, you will get results you can depend on.
Saving you money - It may seem expensive to hire a landscaping company up front, but over time, you will save money when potential problems are caught early, and you're not constantly purchasing new grass seeds to get your lawn to grow.
When you hire The Grounds Guys for lawn maintenance in Alpharetta, Georgia, you'll get reliable results every time.
How Can The Grounds Guys Help with Gardening Services in Alpharetta, GA?
When you turn to The Grounds Guys of Alpharetta, there isn't any outdoor landscaping project we can't handle for you. We want to make your outdoor space enjoyable for you without you needing to lift a finger. Some of the garden services we offer include:
Flower care
Weed control
Defining garden bed edges
Soil cultivation
Raking
Clearing garbage
What Services Do The Grounds Guys Offer in Alpharetta, GA?
There are countless outdoor projects that The Grounds Guys of Alpharetta can help you with. There is no job too large or small for us to handle. After all, our company is built on a "culture of care." This means our customers' needs always come first, and we will tackle your project with a positive attitude and always respect you and your property.
We provide the following landscaping services in Alpharetta, GA:
Lawn and bed maintenance - We'll mow, trim, edge, and fertilize your lawn and garden beds.
Seasonal clean-up - We'll remove leaves and debris from your property.
Landscape design and installation - We can help you design the yard of your dreams and assist with adding new features, such as lighting, trees, and shrubs.
Hardscaping - We can build retaining walls or install patios and walkways.
Pest and weed control - Keep your property healthy and vibrant when your lawn isn't being choked out by weeds and pests.
Seasonal Services
Seasonal services are required at various times of the year to maintain and enhance the appearance of your property. After all, Alpharetta's landscapes have unique needs thanks to the mild winters and warm, muggy summers.
There are a number of seasonal services available with The Grounds Guys of Alpharetta, including:
Pruning
Mulching
Spring clean-up
Seasonal color
Turf maintenance
Irrigation repair
Gutter cleaning
Fall clean-up
Call The Grounds Guys of Alpharetta for Excellent Service
At The Grounds Guys of Alpharetta, exceptional service is our commitment to you. That's why we offer our
Neighborly Done Right Promise™
. When you're ready for us to take over your landscaping needs,
Contact us
. We provide free estimates. We also service Atlanta, Duluth, Marietta, Norcross, North Metro, Peachtree Corners, and Roswell.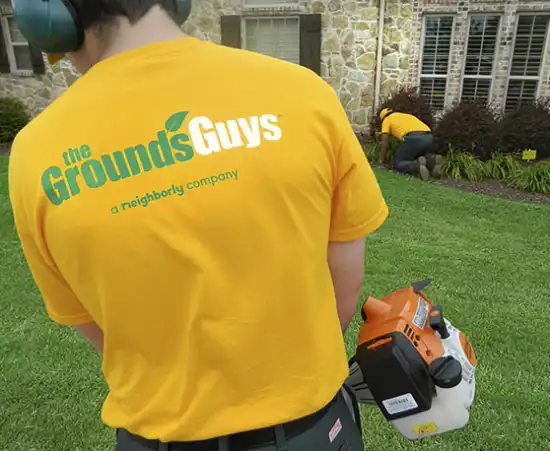 Helping You Achieve Your Landscaping Goals
When you work with The Grounds Guys of Roswell, we hope to make you a customer for life. Our focus has always been on consistent customer satisfaction, which is why our company is centered on a "culture of care." We show that we care by putting our customers' needs first, by always being helpful and positive, and by treating everyone and everything with the respect that it deserves.
We you work with us, you can also expect that our team will:
Deliver timely status and quality reports.
Call you back within three hours or less.
Proudly display The Grounds Guys uniform.
Use equipment that is sharpened daily.
Show up to work in a clean, branded truck.
Call Today to Schedule Your Next Service
If you are ready to schedule your next landscaping or lawn care service—be it residential grounds care, sod installation, fertilization and pest control or commercial landscape maintenance—we encourage you to contact The Grounds Guys of Roswell for a free estimate. We are a veteran-owned business that is backed by industry-leading expertise and consistent customer satisfaction, so don't wait to call.
The Grounds Guys of Alpharetta
Areas We Serve
Alpharetta, Atlanta, Duluth, Marietta, Norcross, North Metro, Peachtree Corners, Roswell
Our Difference
Professional, Uniformed Personnel

Timely Response Guarantee

Safe, Reliable Equipment Maintained Daily

Status and Quality Reports Delivered Timely
Request Job Estimate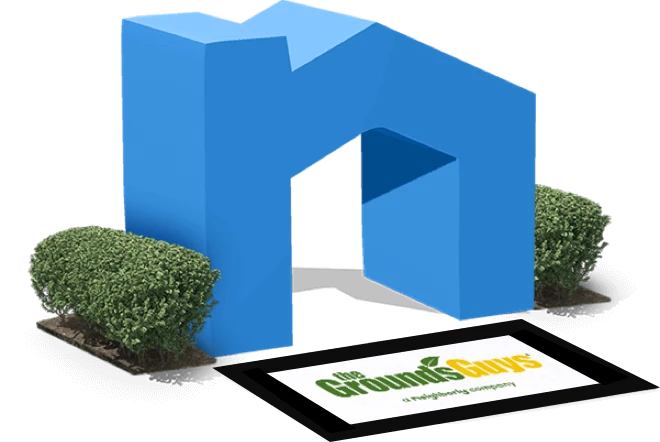 Neighborly®
The Grounds Guys is a Neighborly Company. Lawn care and landscaping are some of the many home maintenance solutions available to you through Neighborly. At Neighborly, we are committed to being there for all your home service needs.
Learn More About Neighborly