What Does Landscaping Consist Of?
Landscaping is an important part of maintaining any home or business. It can add beauty and value to a property, but it also requires careful planning and maintenance. A well-maintained lawn and garden can enhance the aesthetic appeal of your Holland property while providing a functional space for outdoor activities such as entertaining guests or simply relaxing in nature.
Our services include:
Lawn Mowing and Trimming - We provide regular lawn mowing and trimming services to keep your grass neat, healthy, and evenly cut.
Edging - Our team will carefully edge the borders of your lawns, walkways, and flower beds to create clean and defined lines.
Weed Control - We implement effective weed control strategies to keep your landscape free from unwanted vegetation.
Fertilization and Soil Treatment - We apply customized fertilization programs and soil treatments to promote lush and green lawns.
Irrigation System Maintenance - Our experts ensure that your irrigation system is functioning optimally, providing adequate water to your plants and turf.
Shrub and Tree Care - We offer pruning, trimming, and shaping services to maintain the health and aesthetics of your shrubs and trees.
Seasonal Cleanups - Our team performs thorough seasonal cleanups to remove leaves, debris, and other litter, preparing your landscape for each season.
Pest and Disease Management - We monitor for pests and diseases and implement targeted solutions to protect your plants and lawn.
Mulching - Our mulching services help retain moisture, control weeds, and enhance the overall appearance of your flower beds.
Landscaping Enhancements - If you're looking to enhance your landscape, we offer design and installation services to create beautiful outdoor spaces.
Lawn care and landscaping services from The Grounds Guys of Holland, MI provide you with the expertise necessary to create a beautiful outdoor space without taking up too much time or disrupting your schedule. With valuable experience in the landscaping industry, our team has the knowledge and skills needed to help you reclaim your time.
Early Bird Gets The Worm! Book Now for Your Lawn Aeration and Seeding Service and Receive $25 Off A Fall Clean Up Service!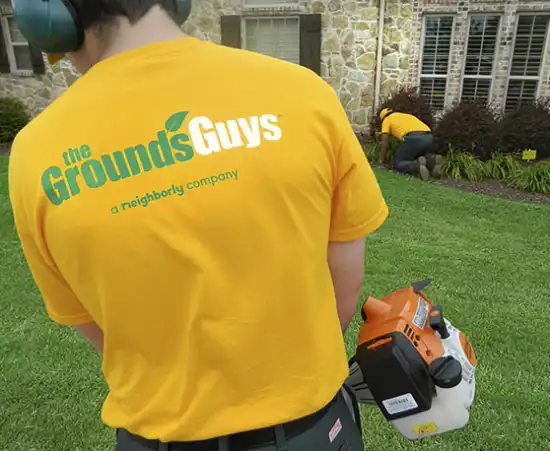 Commercial Lawn Care Services
At The Grounds Guys of Holland, MI,, we offer comprehensive commercial lawn care services to ensure your business property makes a lasting impression. A well-maintained and attractive landscape not only enhances the curb appeal but also creates a welcoming environment for your customers and employees.
With our experienced team and state-of-the-art equipment, we are dedicated to providing reliable and professional lawn care services tailored to your commercial property's specific needs. Let us help you maintain a vibrant and well-groomed landscape that reflects the professionalism and excellence of your business.
Professional Landscapers Near Me
At The Grounds Guys of Holland, MI, we truly care about creating and maintaining beautiful landscapes. Not only does a well-cared-for lawn increase the curb appeal and value of your property, but it can improve the mental well-being of all who get to enjoy it.
Our team can handle all the lawn care services you need in Holland, MI, from standard maintenance such as mowing, weeding, and fall or spring clean-up services. Additionally, we can help you craft beautiful hardscapes and outdoor lighting features that will enhance the visual appeal of your property. Whatever your lawn care or landscaping needs might be, you can count on us to assist.
Request a job estimate or call today to learn more about our lawn care and landscaping services in Holland, MI.
The Grounds Guys of Holland, MI
Choose the right grounds care services team in your area. When it comes to selecting the right team for your commercial or residential lawn care and landscaping services, The Grounds Guys is the right choice.
Areas We Serve
Douglas, Hamilton, Holland, Saugatuck, West Olive, Zeeland
Our Difference
Professional, Uniformed Personnel

Timely Response Guarantee

Safe, Reliable Equipment Maintained Daily

Status and Quality Reports Delivered Timely
Request Job Estimate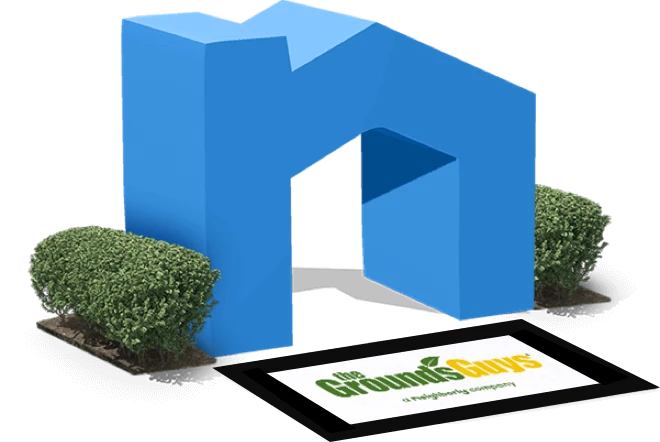 Neighborly®
The Grounds Guys is a Neighborly Company. Lawn care and landscaping are some of the many home maintenance solutions available to you through Neighborly. At Neighborly, we are committed to being there for all your home services needs.
Learn More About Neighborly