Regular Landscaping in Fayetteville, AR, Is Essential
Elevate your home or business with professional landscaping from The Ground Guys of Northwest Arkansas! Landscaping and lawn maintenance not only create a great first impression of your home or business, they also help the entire neighborhood. Protect your high property value by maintaining your lawn and garden beds.
Landscaping in Fayetteville, Arkansas, and surrounding areas, including Bentonville, Cave Springs, Elm Springs, Goshen, Greenland, Johnson, Lowell, Rogers, Springdale, and Tontitown isn't just about aesthetics. Regular care keeps your plants and grass healthy, helping them last longer and look fantastic. Careful landscaping can discourage pests by removing unwanted habitats around your buildings. Regular lawn maintenance can even reduce your costs by finding minor problems before they become expensive repairs! Routine landscaping is about providing a clean, safe environment for your family or clients—a tidy outdoor space is one that you will use frequently.
The Perks of Professional Lawn Care in Fayetteville, AR
Lawn care in Fayetteville, Arkansas, isn't just about your grass and garden beds—it's about you. Maintaining a lawn is hard, time-consuming work! Free up your time and shed space by letting The Grounds Guys of Northwest Arkansas maintain your lawn with professional equipment. By entrusting your lawn to us, you can spend more time enjoying your outdoor spaces and less time maintaining them.
We have the experience and knowledge to make your lawn and garden look spectacular. By applying our familiarity with Northwest Arkansas to your property, we get reliable results, every time. We work with you to make your lawn into a place that suits your lifestyle—your outdoor spaces can be an extension of your indoor living areas. We are so focused on our superb service that we offer a Neighborly Done Right Promise™ to ensure your satisfaction with our work.
The Grounds Guys Provide Lawn Maintenance in Fayetteville, AR
A good lawn starts with the right balance of water and nutrients in the soil. In Northwest Arkansas, the sandy loam requires proper irrigation and fertilization to provide optimal growth, so we begin with soil cultivation. We also provide weed control and flower care to keep your beds looking their best. These steps will keep your plants looking full and beautiful all season long. We can also aerate, repair, and maintain your lawn to keep a lush, barefoot-friendly environment for your family.
The difference between an average garden bed and one that is professionally maintained lies in the details. We work to clearly define your garden bed edges, keeping your lawn looking tidy and well-maintained. We rake and clear garbage regularly. From seasonal color to foliage and groundcovers, this detailed work creates a full, clean appearance for your lawn and garden.
What Services Do The Grounds Guys of Northwest Arkansas Offer?
The Grounds Guys of Northwest Arkansas are poised to handle any landscaping needs, including initial planning, hardscaping, garden beds, and lawn maintenance in Fayetteville, Arkansas, and surrounding areas. We tailor the services we offer to your individual property and lifestyle; our up-front pricing means that you will never pay for services you don't need. These are some of the services we provide:
Landscaping
Tree work
Flower bed care
Seasonal clean-up
Irrigation, drainage, and lawn aeration
Turf maintenance
Pest and weed control
We are experienced with the plateaus of the Northwest Arkansas landscape, and we take that knowledge to the specific needs of your property. From major overhauls to simple lawn maintenance, we can create an outdoor space that you will enjoy. Our goal is to get you outside using your property to its fullest! We offer excellent service and reliable results every time—contact us today for free estimates.
Seasonal Services
The clearly defined seasons and natural beauty of the Ozarks in Northwest Arkansas provide an opportunity for seasonal color. Here is a partial list of our seasonal services.
Summer: Lawn and garden bed maintenance
Fall: Mulching, seasonal clean-up and color, turf maintenance, and gutter cleaning
Winter: Pruning and tree care
Spring: Seasonal clean-up and color and irrigation repair
Call The Grounds Guys of Northwest Arkansas Today!
At The Grounds Guys of Northwest Arkansas, we pride ourselves on providing quality service and the most visible results possible. We handle all landscaping needs in Northwest Arkansas, no matter how big or small. Contact us today to see your landscaping vision come to life!
Eco-Friendly Lawn & Landscape Services
The Grounds Guys understands that part of keeping your yard beautiful is making it enjoyable for everyone. We use the latest tools and safety equipment for the fastest and most reliable results, and our highly-trained Fayetteville team undergoes continual training to be the best they can.
Our materials are eco-friendly as well, so you and your family can remain safe and enjoy your property to the fullest! Plus we use green chemical alternatives like biodiesel, and even use paperless billing and statements!
Get a free estimate for your services; contact us by calling us today!
The Grounds Guys of Northwest Arkansas
Choose the right grounds care services team in your area. When it comes to selecting the right team for your commercial or residential lawn care and landscaping services, The Grounds Guys is the right choice.
Areas We Serve
Bentonville, Cave Springs, Elm Springs, Fayetteville, Goshen, Greenland, Johnson, Lowell, Rogers, Springdale, Tontitown
Our Difference
Professional, Uniformed Personnel

Timely Response Guarantee

Safe, Reliable Equipment Maintained Daily

Status and Quality Reports Delivered Timely
Request Job Estimate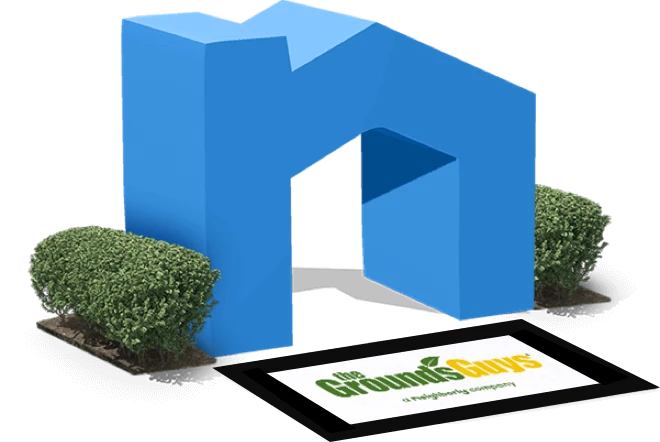 Neighborly®
The Grounds Guys is a Neighborly Company. Lawn care and landscaping are some of the many home maintenance solutions available to you through Neighborly. At Neighborly, we are committed to being there for all your home services needs.
Learn More About Neighborly